In case you haven't noticed, I've not had much in the way of surplus energy/time for blogging of late. Stubbornly persistent flu, a burst of practice-building efforts, and General Life Stuff have intervened, as they are wont to do (as any of you who are acquainted with any three year-olds doubtless know, the task of being an outboard superego for such a beast is a formidable one!).
And, of course, I am still scrambling up the learning curve in search of secure footing in reconciling myself to the current occupant of a certain House on Pennsylvania Avenue.
So, in the meantime, I thought I would pass along a
useful little quiz
for identifying one's position on a variety of dimensions of political thought:
This quiz will let you know where you fall on social liberties, economics, foreign policy-- even the culture war. In truth, this isn't a quiz so much as a set of statements that you must agree or disagree with. Based on your responses we will place you on a graph--also termed a political compass--that separates social liberties from economic opinion.
Such quizzes are a dime a dozen, and most are pure crap. However, the results of this one lined up pretty intuitively with how I informally assessed my evolving political views. For giggles, I herewith present my results:

My
Political Views
I am a right moderate social
libertarian
Right: 5.15, Libertarian: 3.34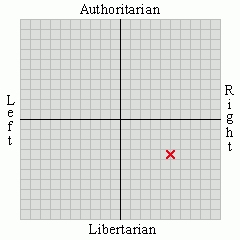 My
Foreign Policy Views
Score: 5.56

My
Culture War Stance
Score: -0.62

I thought it might be entertaining for any readers out there to have a go at this, and see where they stand/fall. If nothing else, it might make for some good sport in the Comments section!
Have at it!